Halloween Spooktacular – Psychic Supper Randalstown
October 28, 2016 @ 8:00 pm

-

10:00 pm

£25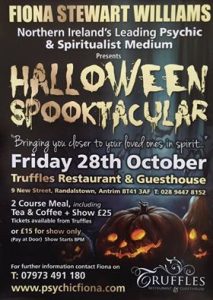 28th October a Fabulous Friday Night "Spooktacular Psychic Supper" with Ireland's Leading Psychic Medium Fiona Stewart-Williams at Truffles Restaurant Randalstown
£25 per person
Admission for dinner and a show bookings through Truffles on T: 028944 78152 show only £15 pay in at the door.
A rather special event is under way this Halloween at Truffles Restaurant Randalstown Co Antrim at 8pm.
Enjoy a two course sit down meal plus Tea an Coffee and bear witness to Fiona's very special and unique gift of spirit communication or join us for the show only, pay in at the door £15. Either way you will be in for a treat.
Fiona's Unique flower sentience tours across Ireland have to date proved to be incredibly popular … her show is simply compelling and moving and also incredibly humorous as personalities from the other side of life are welcomed and recognised by their loved in the audience. Fiona seamlessly bridges the two worlds that of the living with those of the dead bringing about a soul to soul reunion, healing, tender, gentle and loving .
So please do join Fiona for this rather special and wonderful event … bookings for the Spooktacular Psychic Supper £25 is via the Truffles Restaurant or contact Fiona directly on 07973 491180 for further information on paying at the door.