Psychic Night in Longford
May 24, 2018 @ 8:00 pm

-

10:00 pm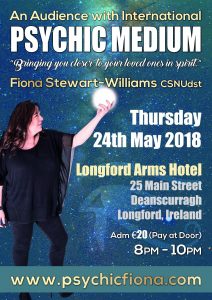 A Psychic Night at Longford Arms Hotel on Thursday 24th May promises to be a night filled with excitement, laughter, tears and amazement as Fiona seamlessly connects to your loved ones in Spirit with shocking accuracy.
This will be a truly unique night as Fiona's demonstrations never cease to astound audiences as she works her magic with the oldest form of mediumship "Flower Sentience".
What is Flower Sentience, you ask?.  It is a Gift from Spirit.  Fresh flowers will be picked at the request of the Spirit communicator and then dressed accordingly, by Fiona, to illustrate the Spirits' life story.
Fiona's shows are remarkable, funny, emotional, touching and deeply healing as she effortlessly connects to your loved ones above.  These Heaven sent Flowers are incredibly special and have lasted longer in some cases due to the spiritual influence and undying love.
The flowers are breathtakingly magnificent, a representation of a personal memory, characteristic or charming story of the loved ones life, and are a special keepsake of this reconnection of love. This event will be exceptional, remarkable and a night not to be missed.
Fiona has been seing and communicating with the Spirit World from a very early age.  She has worked all over the Island of Ireland, Great Britiain,  Europe and the USA.  Holding awards with the renowened Spiritualist National Union in Demonstrating Spiritual Communication, Inspirational Speaking and Teaching.  She is a humble sevant of Spirit wishing to bring about that specal healing moment, to alleviate fear  and to dispell myths.