The Ancient Art of Scrying
October 6, 2019 @ 10:00 am

-

4:30 pm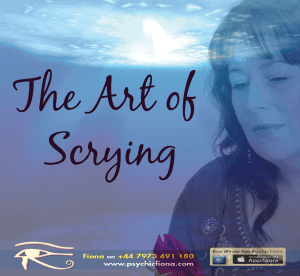 Reviving one of the ancient arts on Sunday 6th October 10:30am to 4:30pm The art of scrying, the practice of gazing into a reflective surface and becoming focused on a single point to remotely view a place, time or situation has been around as long as the human desire to foretell the future.
The ancient Greeks and Celts practiced scrying as did the "wizards" of Mesopotamian and Mesoamerican cultures, the latter known for using polished obsidian.
Any smooth and reflective surface will do…a bowl of water, a mirror, glass, or a candle. Nostradamus, in fact, used a bowl of water to see into the future while in a trance state, making it possible for him to perceive and then interpret images that appeared through ripples, waves, and reflections upon and within the water.
Join Fiona for a wonderful day of Scrying all material included just a thirst for a psychic and spiritual adventure. Bring a packed lunch.
Personal Scrying Mirrors are available at a price of £20