The Mystery of Palmistry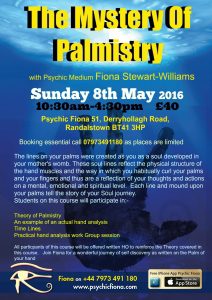 The Mystery Of Palmistry
10:30am to 4:30pm
booking essential
The lines on your palms were created as you as a soul developed in your mother's womb. These soul lines reflect the physical structure of the hand muscles and the way in which you habitually curl your palms and your fingers and thus are a reflection of your thoughts and actions on a mental, emotional and spiritual level. Each line and mound upon your palms tell the story of your Soul journey.
Students on this course will participate in:-
Theory of Palmistry
An example of an actual hand analysis
Time Lines
Practical hand analysis work Group session
All particpants of this course will be offered written HO to reinforce the Theory covered in this course.
Join Fiona for a wonderful journey of self discovery as written on the Palm of your hand