Together Again – Larne
April 7, 2017 @ 8:00 pm

-

10:00 pm

£15.00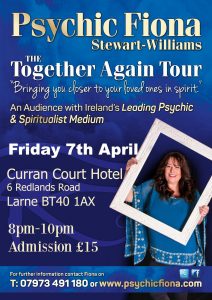 Psychic Night on Friday 7th April 2017 at the Curran Court Hotel in Larne
For one night only ….. An audience with Ireland's leading Psychic Medium Fiona Stewart Williams  at the Curran Court Hote  … an intimate gathering with friends and loved ones from the other side of life … together again …  £15 pay in at the door
Seat reservations call or text 07973 491180 or via pm
Fiona's profound compassion and empathy coupled with her easy sense of humour lifts and genuinely touches the soul, immediately putting you at ease as her evidence of soul survival leaves you in no doubt that you are connecting to your loved ones in the spirit world.
Demonstrating one of the oldest forms of mediumship "Flower Sentience"  Fiona's shows are unique and very special … Yes deeply compelling, laughter through tears will be one of the many healing emotions anticipated as she brings you that much closer to you loved ones in Spirit.
Comments from previous audiences …
"What a great entertaining evening Fiona Stewart Williams I was one of the many lucky ones to receive a lovely message from my cousin Ryan,I'm glad he's a peace & was described spot on,the butterfly was so accurate .As the usual joker that he was Im still laughling this morning With his Flower to us.cheeky chap ❤️😊"
"Amazing night last night fiona. You were awesome 😃. Thanks so much for my lilly. I kept saying to kerry "that Lillys for me" I just knew it!!! I really needed that wee message from my granny.  Thnk u 😘 xxx "
Don't miss this rare opportunity to witness and be part of a rather special evening of Flower Sentience one of the oldest forms of mediumship … An evening of Spirit Communication that will leave you in no doubt that you are loved, cherished and supported by your loved ones in Spirit.