Psychic Tea Party in Antrim
January 12, 2020 @ 3:00 pm

-

5:00 pm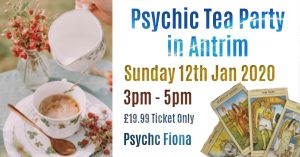 Sunday 12th January 2020
3PM-5PM £19.99
Holiday Inn Express, M2 Jct 1, Antrim
One of those rare events were everyone is GUARANTEED a little Psychic Something.  Coffee/Tea and fabulous cakes provide the perfect psychic platform for that intimate private connection with Fiona.
This special event is three-fold in terms that you get a private demonstration of one of the oldest forms of Mediumship, followed by Tea/Coffee and Cakes as Fiona then delivers very special messages to each and every member participating.
UP FRONT AND PERSONAL WITH PSYCHIC FIONA LIMITED SEATING BOOK NOW TO AVOID DISAPPOINTMENT
Legal Notice
1. Fiona Stewart Williams will endeavour to make contact whether directly or indirectly with your deceased relatives, friends and loved-ones.
2. Psychic, spiritual and paranormal abilities are not scientifically proven, nor are they a precise and exact science. They are a matter of faith and belief. For these reasons no reading or presentation can be 100% accurate or certain and no contact can be guaranteed.
3. Fiona  presents her services, sessions and events in the sincere faith and honest belief in her abilities.
4. Fiona  will at all times use her best endeavours and will work to the best of her knowledge and ability in the preparation and delivery of her services.
4. Because of the sensitive nature of Fiona 's services and events they are
unsuitable for persons:
Below the age of [16] years
Of a nervous disposition or of a highly sensitive or emotional disposition
Suffering from a psychiatric condition, psychological problem or behavioural disorder
5. In attending one of Fiona 's events you warrant that you are fit, able and of sufficient mental fortitude to deal with the matters and subjects raised and to cope with such information as may be imparted to you or others.
6. There can be no guarantee that in attending any event that Fiona  will make any contact on your behalf.
7. You must exercise your own judgment and discretion in assessing the reality and relevance of such matters as may unfold at an event or of such information as may be imparted to you or others.
8. In making any contact Fiona  can only rely upon the information imparted to her by the contact and there can be no guarantee as to the true identity of the contact beyond what has been purported. It is for you as the recipient of any contact to exercise your own judgment and discretion to satisfy yourself
whether the contact is properly who or what it purports to be.
9. In the event that any information may be imparted to you directly you should not rely upon this without the exercise of your own judgment and discretion, and making your own thorough analysis of the information provided.
10. Any information or advice given to you by Fiona  should not take the place of any medical, legal or financial advice given to you by any qualified professional. All sessions with Fiona  are not a substitute for medical, legal or financial advice.
11. Fiona 's events are subject to be filmed. You and other ticket holders consent to filming and sound recording as members of the audience.
12. Terms & Conditions are subject to change.
REFUND POLICY
Tickets & Private Reading sales are non refundable and non transferable with the exception of a cancelation of the event in which case a full refund will be made.