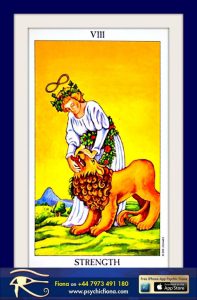 Strength for February 2017
Sure we can find the physical and mental strength during a great upheaval in our lives but as we plan to move forward from such an event(s) our energy, confidence or even our health can be compromised by the level of stress that we have inflicted upon ourselves.
This card reflects the inner strength, determination and awesome  power of the human spirit to overcome any obstacle, hurdle or journey placed before them.
So People be very conscious of your instinctual urges this week for this is not a time for a knee jerk reactions, nor to act out your pain … instead, be still and draw upon the huge well of inner strength that comes from a deeper part of your psyche that which is your Soul, for here dwells compassion.  When we look at a  situation from a place of love, empathy and understanding we see a clearer path … and all those who take this route of action find they have been restored in all aspects … Mind, Body and Soul …..
Be Strong, Be Kind, Be You x